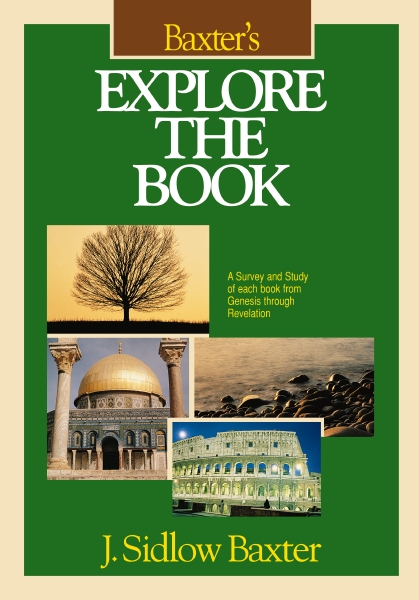 Lately I've been thinking I could use a

Bible survey refresher course so I dug out our Old Testament Survey class textbook,

"Explore the Book"

by J. Sidlow Baxter.

I hadn't picked up this wonderful

6-in-1 Volume in decades and Robert reminded me how much he enjoyed this work by a theologian and pastor who had trained at Spurgeon's College in London in the early 1900's.

So I started at the beginning and right off it was interesting to read Baxter's outline of the Old Testament.
The 39 books of the Old Testament can be divided into 3 main categories.
The first 17 books (Genesis – Esther) are written in prose and are by nature historical.
The 5 in the middle (Job – Song of Songs)

are poetic and are by nature

experiential.
The last 17 books (Isaiah – Malachi) are written in prose and are by nature prophetic.
Now this gets really interesting as he notes that

within the two groups of 17 books,

by no mere coincidence, there are yet more twin subcategories

of

5 + 12.

Furthermore each subcategory of 12 has yet another breakdown of

9 + 3.
The first 17 historic books

begin with the 5 books of Moses (Genesis-Deuteronomy)

followed by

12

books

that are broken down into

9

pre-exilic

books, when Israel occupied the Promised Land (Joshua -2 Chronicles) + 3 post exilic

books where they had been expulsed

from the Land (Ezra - Esther).
The second 17 prophetic books

begin with

5 Major prophets (Isaiah-Daniel),

followed by 12 books

also broken down into

9

pre-exilic books (Hosea - Zephaniah) and the last

3 post exilic books ( Haggai – Malachi).

The 5 in middle are the poetic books which Baxter states:
"are not historical; they are individual and experiential. All of the foregoing seventeen historical books are national; but these five are not national, they are personal, and they deal mainly with the problems of the individual human heart." (1)
"Thus the thirty-nine books of our Old Testament fall into this orderly grouping of seventeen historical, five experiential, and seventeen prophetical, with both the seventeens sub-grouped into five and nine and three, and the five books which deal the

individual human heart placed right between the two seventeens, at the very heart of the Old Testament.

Is this accident or design?

Think of it:

over thirty writers contributed to the Old Testament, spaced out over twelve hundred years, writing in different places, to different parties, for different purposes, and little dreaming that their writings, besides being preserved through generations, were eventually to be compiled into that systematic plurality in unity which we now find in the Old Testament.

When one reflects on this, surely one cannot be charged with fancifulness for thinking that behind the human writers there must have been a controlling divine design" (2)
I don't believe Mr. Baxter is saying that the
order
in which the books were placed are inspired, but rather that in God's divine providence the placement of the inspired books is obviously apparent.
Now, does God's Word ever cease to amaze us?

NO!
"The Word of God well understood and religiously obeyed is the shortest route to spiritual perfection. And we must not select a few favorite passages to the exclusion of others. Nothing less than a whole Bible can make a whole Christian". --AW. Tozer
(1) Explore The Book: In One Volume by J. Sidlow Baxter; Zondervan; 1975; pg 16
(2)
ibid:
pg 18
Print this post